A comprehensive financial plan is designed to help you answer questions like: Am I saving enough? Is my family protected? Can I afford the retirement that I imagined? and perhaps a few that you haven't yet considered.

What differentiates our approach is the time invested in you to uncover and understand your unique concerns and aspirations.  The result is a personalized plan that reflects what matters most to you.

Our process is simple:
 
 

The first step involves understanding where you are today and where you want to go. Then, we map out a plan designed with the goal to help you get there.

 

Plan
 

 
 
The second step is implementation.  You can choose to implement the investment plan on your own, or you may decide to outsource the investment management to us.

Regardless of your choice, we'll be here to guide you along the way. 

 

Build
 

 
 

Because financial planning is an interactive process, the third step involves reviewing your situation, and the effect changes to the economic climate and personal preferences may have on your plan. Updating your plan regularly ensures that the many variables affecting goal attainment are appropriately considered. 

 

Review

 
A typical plan includes all the services listed below, as well as a review of your current investments.  As an alternative, you may want to focus on just one specific aspect of your financial plan, such as retirement planning.  

Whichever you choose, you will be provided with financial reports and detailed written reviews that are personalized to meet your needs.  To begin the process, we will send you an information package then meet with you to discuss how we may assist you in achieving your financial goals.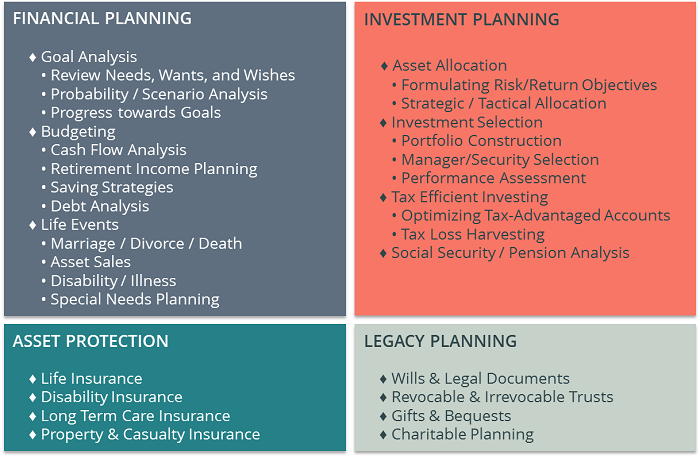 Financial planning fees are based on the complexity of your situation, the scope of the analysis, and the expertise required to prepare the analysis.  Our professional hourly rates range from $150 to $250.  Full fee disclosure will precede establishment of all accounts and services. 

To schedule an initial consultation, please contact us.  For more information on what to expect and what to bring please click here.